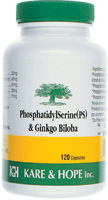 This formula combines the benefit of Phosphatidylserine (PS) and Ginkgo Biloba for improved results to boost memory, focus and concentration.
Phosphatidylserine (PS) is a naturally occurring phospholipids derived from soy lecithin. There have been 36 human studies conducted to date. The studies conclusively demonstrated that PS can help maintain cognition, concentration and related mental functions.
Ginkgo is well known for itís ability to enhance memory, it relaxes the blood vessels which stimulates blood supply to the brain. This fresh supply of blood and nourishment helps improve memory and concentration. Ginkgo also helps increase circulation throughout the whole body.
Kare & Hope Inc. uses Leci-PS and Standardized Ginkgo (24/6%).
Suggested Uses:

1-Dementia.
2-memory loss.
3-Alzheimer`s disease.
4-Reduces stress in young people.
5-Premenstrual syndrome.
6-coronary Heart disease.
7-Diabetic eye disease.
8-Impotence
Caution : Potential drug interaction with warfarin and aspirin.
Available in
60, 120 capsules

Product Name
Phosphatidylserine & Ginkgo Biloba.

Product Source
Enriched Lecithin extract
Ginkgo Biloba.

Medicinal Ingredients
Phosphatidylserine (PS). Flavoglycosides, Quercetin, Proanthocyanidins, also contains terpens.

Main Action
1- Signal Transmission in the brain.
2- Helps Brain process energy.
3- Improves blood flow to brain and extremities.
4- A bronchodilator.

Suggested Dose
One capsule three times daily