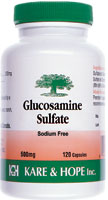 Glucosamine Sulfate is a synthetic version of a compound the human body makes to stimulate the growth of cartilage. The idea is that such compounds help rebuild cartilage and reduce the symptoms of arthritis.

The supplement is an acceptable treatment in veterinary medicine, but the Arthritis Foundation and the American College of Rheumatology have not yet officially recommended it for humans, despite a large body of evidence supporting its use and the fact that it is considered a drug in several countries around the world. The United States Food and Drug Administration does not approve any dietary supplement, and, as such, at this time Glucosamine is sold as a nutritional supplement and therefore does not need evidence of safety and efficacy. Glucosamine has been studied for over 20 years. As a natural substance that is already present inside the body, evidence bears out that Glucosamine appears to be quite safe. One caveat - there is limited evidence that individuals with an allergy to shellfish should avoid Glucosamine, as it is is usually derived from shellfish.

Suggested Uses:

1-Cartilage formation & repair.
2-Athletes who experience connective tissue stress.
3-Joint pain relief.
4-Treatment of Arthritis.
Available in
120 & 180 capsules

Product Name
Glucosamine Sulfate

Product Source
Crab shell

Medicinal Ingredients
Glucose, amino group, Sulfate group, mucopolysaccharides and glycoprotein's.

Main Action
Glycosaminoglycans synthesis (cartilage synthesis).

Suggested Dose
One capsule three times a day. (Take with food.)