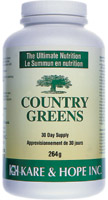 What is Country Greens?

Country Greens 29 carefully selected ingredients provides you with vitamins, minerals and fibers that you may be missing or not getting enough of in your daily diet.

You won't regret trying or switching to COUNTRY GREENS


Suggested Uses:

• Increases energy and endurance
• Helps relieve digestive problems
• Helps to boost the immune system
• Provides you with antioxidants useful in fighting free radicals and the problems they may cause.
• Helps boost brain power.
Buy Online
Available in
264 g powder & 180 capsules

Product Name
Country Greens

Product Source
Green Organic Foods (1,574 mg in total)
Blue-Green Algae and Sea Algae
Natural Emulsifiers
Nutrient Rich Super Foods
Digestive Aids
Natural Fibers
Energy & Endurance
Herbal Standardized Extract

Suggested Dose
Mix three level teaspoons of Country Greens in a cup with pure water, vegetable or fruit juice. Shake vigorously. Drink and enjoy.
If you wish, you may blend Country Greens with fresh fruits in a blender. Drink immediately

Green Organic Foods (1,574 mg in total)

• Organic Alfalfa Juice Powder
• Organic Barley Juice Powder
• Organic Oat Grass Juice Powder
• Organic Wheat Grass Juice Powder
• Beet Juice Powder

These organic juice powders are gluten-free, rich in complete protein, B-complex vitamins, carotenes, vitamins A, C, E, K and essential minerals. Beet juice powder – a rich source of iron, vitamin C, B-complex, calcium, potassium and anthocyanins.

Blue-Green Algae and Sea Algae

• Spirulina 1,510 mg
• Chlorella 385 mg
• Nova Scotia Dulse 33 mg

Easily digested, the Chlorella and Spirulina blue-green algae are rich in trace minerals and chlorophyll. Another sea algae, Dulse, is rich in iodine and other trace minerals.

Natural Emulsifiers

• Pure Soy Lecithin (99% oil free) 2,020 mg.

It's in every living cell and it helps to metabolize fat and maintain the health of the liver. Lecithin helps prevent fat and cholesterol from accumulating in the arteries and aids in the dissolution of deposits already there.

Nutrient Rich Super Foods

• Acerola Berry Juice Powder 120 mg
• Soy Sprouts 385 mg

Free from allergens present in mature wheat, Soy sprouts are blood purifiers and cell-cleansing agents. They're replete with vitamins and minerals and high in protein. Acerola berry juice powder – the most potent source of vitamin C and bioflavonoid available. Vitamin C is antiviral and antibacterial and enhances many immune functions.

Digestive Aids

• Non-Dairy Probiotic Cultures blends in base of Fructo-oligosaccharides(FOS) 200mg

Dairy-free probiotic culture – these help restore a balance of microflora for a healthy colon and improve immune function. They help in the digestion of sugars, assimilation of vitamins and minerals and reduce the number of harmful bacteria in the intestines.

Natural Fibers

• Apple Pectin High Fiber 1050 mg
• Sprouted Barley Malt 350 mg
• Brown Rice 383 mg
• Flax Seed Meal 100 mg

Natural fibers found in flax seed, apple pectin, apple fiber and brown rice contribute to a healthy gastrointestinal tract, cleansing
and eliminating cholesterol and toxins. Barley Malt help moisturize the stool.

Energy &Endurance

• Royal Jelly 150 mg
• Bee Pollen 150 mg
• Suma 20 mg
• Astragalus 60 mg
• Licorice 116 mg

A popular immune-booster, royal jelly is an excellent source of vitamins, enzymes and amino acids. Bee Pollen is a vitamin and mineral-rich energizer. Suma, Astragalus and licorice help to balance the body's energy system and help the body heal and rejuvenate.

Herbal Standardized Extracts

• Ginkgo Biloba 20 mg
• Milk Thistle 60 mg
• Siberian Ginseng 60 mg
• Grape Seed Extract 10 mg
• Green Tea Extract 15 mg
• Sativa Extract 7 mg

Proven to help with micro-vascular circulation is Ginkgo Biloba. Milk thistle extract aids liver functions. Siberian Ginseng helps to detoxify the body of unwanted materials. It's also has been used as an energy booster and an Immune enhancer. Rapidly absorbed grape seed extract is a powerful antioxidant. It helps to increase the effectiveness of vitamin C by acting as a carrier for it. Green tea assists digestion and proliferation of friendly bacteria in the intestines. It, too, is an exceptionally strong antioxidant.