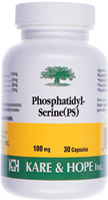 Phosphatidylserine (PS) is a naturally occurring phospholipids derived from soy lecithin.
Phospholipids are life-essential membrane nutrients. They are critical building blocks for all body cells and the most abundant constituents of the lipid Bilayer of each cell membrane. There have been 36 human studies conducted to date. The studies conclusively demonstrated that PS can help maintain cognition, concentration and related mental functions.

In double-blind, clinical trials, PS supplementation significantly improved the learning and recall of names and faces, telephone numbers, and the locations of frequently misplaced objects. Research also indicates PS has the ability to reduce the effect of physical stress, making it a very popular supplement among athletes.

PS does exist in trace amounts in some foods, but we simply could not consume or digest the amounts required to reach the intakes used in successful clinical trials. Also, conventional lecithin preparations contain only a trace amount of PS. Leci-PS is the most reliable and consistently high quality source of concentrated PS available for dietary supplements.

Leci-PS is a safe nutrient. It is derived from soy phospholipids which have a long history of safe use in dietary supplements.

Suggested Uses:

1-Dementia.
2-memory loss.
3-Alzheimer`s disease.
4-Reduces stress in young people.
Available in
30 & 60 capsules

Product Name
Phosphatidylserine

Product Source
Enriched Lecithin

Medicinal Ingredients
Not available

Main Action
1-Signal Transmission in the brain.
2-Helps Brain process energy.

Suggested Dose
300mg/day for the first month , then 100mg/day for 3-6 months.
Each capsule contains 100 mg PS.