Hand & Body Cream
Result that you hope to achieve!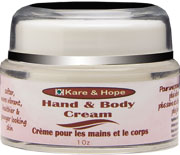 Get softer, more vibrant, healthier & younger looking skin.
It Must help ..or we do not make it
Buy Online
Available in
1 Oz

Product Name
Hand & Body Cream

Product Source
Blend of high quality oils

Ingredients
Shea Butter, Royal Jelly, Echinacea, Ginseng, Pure natural fragrance and others.
Main Action
Get softer, more vibrant, healthier & younger looking skin.
Directions
Apply to hand or massage body day or night.
Where to Buy
Use the Store Locator to find a retailer in your area or order online
Our skin is one part of our body that continually reminds us to pay attention to it. We all notice when blemishes appear and when the skin is dry and flaky. People of all ages and genders notice when wrinkles appear anywhere on the body. Your skin is affected by the elements such as the sun, wind, and cold all of which can have a negative effect. Moisturizing the skin is an essential part of skin health. It helps prevent moisture loss by nourishing, soothing, lubricating and hydrating the skin, giving your skin a youthful, glowing, healthy appearance. Kare and Hope have created a shea butter and herbal based hand and body cream with you skins needs in mind. It contains the right balance of oils to leave the skin feeling soft and supple but not clogged and greasy. The act of massaging Kare and Hope's Hand and Body lotion into the skin also stimulates circulation, which brings a fresh blood supply to the skin from the insides out. Be sure to drink lots of fresh water daily along with Kare and Hope's Hand and Body moisturizer to feel how soft, vibrant, and younger your skin can look.