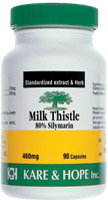 Milk Thistle Is a very important ally for the liver. It is very effective in protecting the liver from environmental toxins. Milk Thistle also works with the liver cells to increase the production of proteins and enzymes.
This helps damaged tissues to rebuild themselves. Kare & Hope Milk Thistle Contains 210 mg of Standardized Milk Thistle(80% Sylimarin) and 250mg of Milk Thistle herb powder.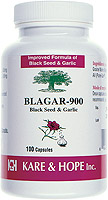 Blagar 900 Our immune system is constantly being challenged. It is important to support it with energy, rest, good food and good supplements.
Garlic and black seed is a great supplement. Garlic has been used for many centuries in Europe and has been used to cure many diseases, garlic plays a special role in supporting the immune system.
It enhances the line of defence to ward off diseases. When taken with black seed, it increases the enhancing effect on the immune system.

Suggested Uses:

1-Reduces high Blood Pressure and blood cholesterol levels.
2-Infections Including Candida.
3-Anticancer.
4-A digestive tonic.