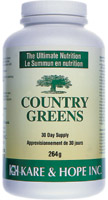 Country Greens What is Country Greens?

Country Greens 29 carefully selected ingredients provides you with vitamins, minerals and fibers that you may be missing or not getting enough of in your daily diet.

You won't regret trying or switching to COUNTRY GREENS


Suggested Uses:

• Increases energy and endurance
• Helps relieve digestive problems
• Helps to boost the immune system
• Provides you with antioxidants useful in fighting free radicals and the problems they may cause.
• Helps boost brain power.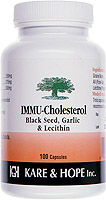 Immu Cholesterol Are you concerned about cholesterol? Confused about the good and bad forms? Wondering about the natural alternative? Lecithin breaks fat into very small particles enabling it to pass through the body. It prevents build up on the arterial walls as well as keeping the fat in a soluble form.
Garlic has proven its ability to reduce total serum cholesterol levels. Garlic can aid in the metabolizing or digestion of fats along with removing the toxins that are released from the fat.

Suggested Uses:

Allergic Diseases for i.e.:
1-Bronchial Asthma and Hay fever.
2-Infections including Parasitic Infestations.
3-Cancer and in conjunction with cancer chemotherapy.
4-Autoimmune Diseases like Multiple Sclerosis.
5-Constipation.