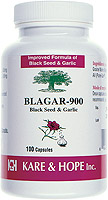 Blagar 900 Our immune system is constantly being challenged. It is important to support it with energy, rest, good food and good supplements.
Garlic and black seed is a great supplement. Garlic has been used for many centuries in Europe and has been used to cure many diseases, garlic plays a special role in supporting the immune system.
It enhances the line of defence to ward off diseases. When taken with black seed, it increases the enhancing effect on the immune system.

Suggested Uses:

1-Reduces high Blood Pressure and blood cholesterol levels.
2-Infections Including Candida.
3-Anticancer.
4-A digestive tonic.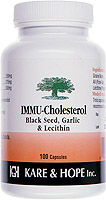 Immu Cholesterol Are you concerned about cholesterol? Confused about the good and bad forms? Wondering about the natural alternative? Lecithin breaks fat into very small particles enabling it to pass through the body. It prevents build up on the arterial walls as well as keeping the fat in a soluble form.
Garlic has proven its ability to reduce total serum cholesterol levels. Garlic can aid in the metabolizing or digestion of fats along with removing the toxins that are released from the fat.

Suggested Uses:

Allergic Diseases for i.e.:
1-Bronchial Asthma and Hay fever.
2-Infections including Parasitic Infestations.
3-Cancer and in conjunction with cancer chemotherapy.
4-Autoimmune Diseases like Multiple Sclerosis.
5-Constipation.