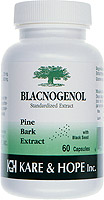 Blacnogenol This is a very special anti-oxidant formula. What are anti-oxidants? Simply put they are the good scavengers roaming our bodies searching for free radicals also known as toxins. Once found these anti-oxidants try to neutralize and eliminate the toxic substances, toxins may come from the environment, food supplies and also waste from our own cells. These toxins destroy cells causing a large variety of problems such as suppressed immune disorders and allergies.

The bark of the pine trees contain very special bioflavonoid called proanthocyanidins.

Proanthocyanidins are considered to be one of the most potent anti-oxidants available. Studies have shown these bioflavonoid to have stronger anti-oxidants properties than both vitamin E and vitamin C. Anti-oxidants like pine bark work synergistically with many substances found in our body.

Suggested Uses:

1-Allergic diseases.
2-Attention deficit hyperactivity disorder.
3-prevention of varicose veins, diabetic retinopathy and strokes.
4-Reduces risk of colonic cancer.
5-Bronchial Asthma and Hay fever.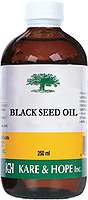 Black Seed Oil Nigella Sativa commonly known as black seed. This mild aromatic herb is indigenous to the Middle East where it has been used as a traditional remedy for over 2000 years. It was used so extensively that it became known as the seed of blessing "Habbatul Barakah".

Black seed is commonly used for bronchial asthma, bronchitis, and ailments of the respiratory tract. It is also reduces inflammation, corrects digestive disturbances and constipation, and fights worms of the digestive tract. It also helps to improve both kidney and liver functions, getting rid of kidney stones and detoxifying the liver. In addition, it improves milk production in nursing mothers and increases sperm count in men. Black seed also increases energy and is a great general tonic. Skin conditions such as eczema and infections can be treated by topically applying Black seed.

Suggested Uses:

Allergic Diseases for i.e.:
1-Bronchial Asthma and Hay fever.
2-Infections including Parasitic Infestations.
3-Cancer and in conjunction with cancer chemotherapy.
4-Autoimmune Diseases like Multiple Sclerosis.
5-Constipation.